Clive's Dial-In Service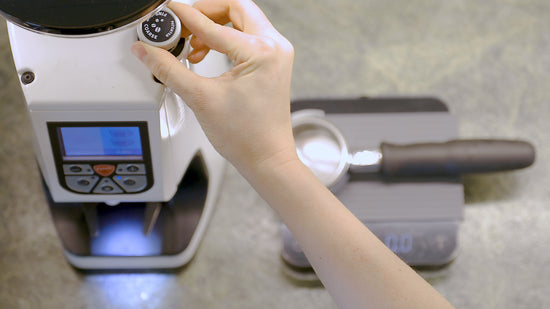 Your grinder has been dialed in by Clive.
Why did we embark on such a task, you ask? Well, it's simple. By trade, our team is comprised of seasoned industry coffee trainers and educators, and our mission has always been to bring the cafè experience home as seamlessly as possible. Yet, dialing in the grinder has been and always will be the most significant learning curve for new home baristas, thus being painstakingly obsessive as we are, we went to work and figured out how to adjust every grinder in our lineup — to give the fresh home barista a good starting point to begin pulling shots out of the box, plus or minus a few adjustments for personal taste, without wasting too much coffee. 
The dial-in service is by no means perfect. Many variables go into pulling a shot of espresso, and adjusting the grind size on your grinder is just one of them; however, getting you to a decent starting point will help build up your confidence and help demystify your dial-in experience. Dialing in your grinder doesn't have to be work, but we can give you the knowledge to grow with your equipment and succeed. The dial-in service is the first step.
What is dialing in?
To dial in a grinder means to position the distance of the burrs to a particular setting so that when coffee is ground through, it will be at a size to pull a great shot of espresso. Using Verve coffee (included in the home barista starter kit or available on our website), we measured 18g of coffee and pulled a shot to 27g, between 25-30 seconds. 
Did you use coffee in my grinder?
No. We got this down to a science, literally — hundreds of spreadsheets and formulas. Remember this?



Each grinder is a bit different, but typically, we take the burrs to zero (when they touch) and adjust coarser until it has reached the setting we found when dialing in on our grinders in-house with coffee. Each grinder is unique, and this setting will get you close to a great shot out of the box.
Will the first shot be right?
This is a little crazy, right? Dialing in a grinder before it arrives — we know. When grinders ship from the factory, the burrs could be set at any distance, making your first shot out of the box what's scientifically known as a "gusher," or it could be set so fine no coffee comes out at all. Our formula isn't perfect, but it'll get you pretty darn close. If not your first shot, you're likely just a few shots away from the best one. 
Do I need to adjust my grinder?
Don't make an adjustment until after you've pulled a shot. If it pulls too fast (under 20 seconds), adjust finer. If your grinder has a stepless adjustment knob, turn it clockwise to adjust to a smaller grind size. Typically you can rely on the tried and true "smaller numbers, smaller grind." If it's too slow (well over 35 seconds), adjust to a coarser setting either counterclockwise or towards larger numbers. Keep in mind that if you have a stepless adjustment dial with 0-5, the grinder can adjust past zero, rotating 360 degrees multiple times. Don't be afraid to make adjustments. 
Need help building an espresso recipe? Check out Your Guide to Perfect Home Espresso.

Stepped Adjustment Grinder:


Stepless Adjustment Grinder:
How big of an adjustment should I make?
Micro! Be careful not to over-adjust. You can get lost that way quickly. It takes a while to learn the particulars of your grinder. Be patient. Only adjust a half-step or half a number at a time. If your shots are pulling way out of parameters, it's okay to make slightly larger adjustments.
Will it be this way every time?
Rest assured, this will get easier as you get to know your grinder and get more experience as a barista. If you're using different coffee, or something went wrong in transit, and the setting is off, this is likely the only time you'll have to make this many adjustments at one time. Expect to make small adjustments as coffee ages, or you change beans.
Some words of wisdom:
Use freshly roasted coffee beans — make sure your bag has a roast date on it, and it's not older than a month. Old coffee can make your shots run fast, no matter how fine you grind. 


Use a scale. If you change how much coffee you put in every time, how much coffee you pull and how long it takes will vary, causing you to make adjustments when it might not be necessary. 
Purge your grinder. Every time you make a grind adjustment, run a few beans through the grinder at the new setting, so your next dose is consistent and doesn't have grounds from the old setting in your basket. 
Please note that coffee is used to dial-in Baratza grinders, the DF64, the Mahlkönig X54, and the Eureka Olympus grinder. Trace amounts of coffee residue may be present in these machines.