Baratza Vario Coffee Grinder Overview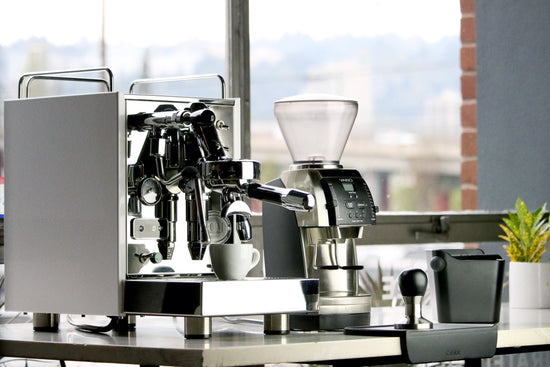 You want a grinder that can ensure smooth, consistent espresso as well as deliciously clean pour over, French press, and drip coffee, all while being easy to use and easy to clean. And also something compact and affordable. Asking too much? We don't think so. Keep reading to learn about the Baratza Vario All-Purpose Coffee Grinder.
Baratza designed this Swiss army knife of home grinders back in 2008, with a grind range that extends across the entire spectrum of brew methods. But more than anything, they designed a grinder for the needs of home baristas who want the ability to switch between brew methods on the fly using just one grinder, without compromising quality in the cup. With its innovative dual stepped grind adjustment system, the Baratza Vario does just that. It's become an industry favorite, beating out grinders like the Mazzer Mini in blind taste tests.
When it comes to espresso, dialing in shots is about as straightforward as can be. Once you're in the ballpark (which is typically within the range of the 2 setting) we find that a one letter micro-adjustment translates almost directly to a one-second change in extraction time, making it intuitive and precise. Few espresso grinders make it this simple to nail down a recipe, and with its large flat ceramic burrs, you'll find that the results in the cup are just as impressive. The Vario also excels as a single dosing grinder thanks to its vertical grind path and low grind retention, making it stand out compared to its flat-burred peers.
Beyond espresso, the Vario shines as a brewed coffee grinder. So much so that it's even become a staple at coffee shops. By shifting the macro adjustment lever to about 7 and replacing the portafilter holder with the included grounds bin, we're ready to start brewing drip coffee. Its unique dual grind adjustment system allows you to make these large adjustments quickly, allowing you to nail your pour over recipe down to the second for that perfect cup you've been chasing.
Oh, and if you have any anxiety about losing your espresso setting, we understand, but don't worry. Just remember your grind setting for espresso and you'll be able to switch back to pulling shots with minimal waste.
If you're looking for a versatile grinder that can help you perfect both your espresso and filter coffee, all while being compact and affordable, you're not asking for too much. You're asking for the Baratza Vario.