Bezzera Duo MN Overview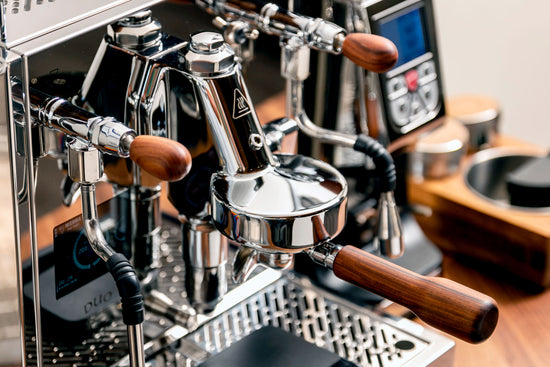 Since 1901 Bezzera has been manufacturing espresso machines, and is considered one of the founders in the history of traditional espresso. They've continuously evolved and improved their line of machines as the espresso market expects more from their equipment. The Bezzera Duo MN is no exception. 
The Bezzera Duo MN is an exquisite dual boiler espresso machine with a hearty rotary pump, stunning E61 style group head, and a PID for temperature control. It can be plumbed directly to your water line or run off its own internal 4L reservoir. This elegant machine stands at 16.7 inches tall, 12.8 inches wide, and 18.5 inches deep.
For the price-point, the Duo has a surprisingly long list of exciting features. Even the touch points on this machine feel premium with the included rosewood accents. From the joystick knobs, brew lever, and the included portafilters, the wood adds a lovely touch of warmth to the full stainless steel body.
On the Duo, what sets it apart from others in its class is the vibrant touch-screen control panel, which allows you, as the barista, to change and edit various functions. 
On the home screen, you'll find a readout for both your steam boiler and brew boiler, as well as a hot water indicator displaying the water level inside of your steam boiler. Tapping on the brew or steam temperature will bring you to the boiler settings menu to modify the set temp. From the brew boiler menu, you can also edit the programmed pre-infusion length and choose whether to display the built-in shot timer. You also can indicate which boiler takes priority during the machine's initial warmup.
Clicking on the options menu will allow you to customize the machine to work for you and your morning routine. From the drop-down menu, you can program an automatic on and off schedule so your machine can be ready to pull shots no matter how early your day starts.
Within the settings menu, you're able to program reminders for routine maintenance and water quality checks. We love this feature because we know how easy it can be to forget to swap out those essential softening pouches. 
Internally, the Duo boasts two PID controllers for optimal temperature stability for both your brew and steam boilers. This means your machine won't skip a beat if you happen to have a few latte lovers in your house.
If steam power is high on your wishlist, then you won't be disappointed with the Duo. Consistently maintaining 1.5 bars of steam pressure, this machine is undoubtedly capable of perfectly texturing milk for back to back creamy cappuccinos or lattes.
It's hard to deny the build quality of any Bezzera machine. Their reputation is spotless, and for a good reason. Every detail in their design is intentional and proven. Components and machines are designed and manufactured in their facility in Milan, Italy. The entire production process takes place right on site, including carefully selecting raw materials to cast their parts in-house. 
If you're searching for a stunning machine to elevate your mornings, the Bezzera Duo MN is a high-performing contender. From the rosewood accents to the intuitive touch screen control panel, the Duo is simply a brilliant choice. With the right care and maintenance, we're certain the Duo is built to last a lifetime.