Eureka Olympus 75E Espresso Grinder Review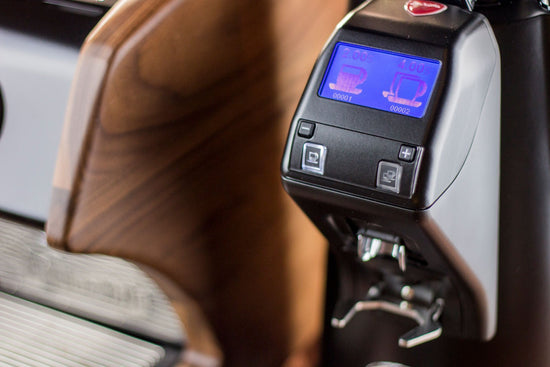 It's rare to find a top-of-the-line commercial espresso grinder that retains the ease-of-use and styling of a consumer model without sacrificing the performance, consistency, and durability required by the demanding cafe, office, or home-barista. Well, we have certainly found one. The Eureka Olympus 75E High-Speed Espresso Grinder.
Eureka has been making grinders in Florence, Italy since the 1940's. They have also become the largest grinder manufacturer in Italy (although they're better known for the models they re-brand for companies like Simonelli). This storied heritage is evident across their innovative product line, and especially in the Olympus. We'll talk more about innovation in a minute.
This grinder provides an advantage in cup quality, cleanliness, and consistency over the typical 64mm commercial flat burr. But why?
Massive 75mm flat burrs available in both steel and titanium, create a more uniform particle size distribution for more even extractions. And an 800W motor can move 20 grams of fluffy ground coffee in just three seconds, which reduces flavor loss from friction and motor heat. The standard steel burrs are rated for 1100 pounds of grinding, or 21 years at a rate of one pound per week. The optional Mythos titanium coated burrs offer even greater longevity, as they're rated to last three times as long, that's 1.6 tons of coffee. In either metal, these large burrs result in some of the cleanest, smoothest espresso we've ever had. We also use this grinder to pull back-to-back shots in our latte art classes for 40 straight minutes, and the endless flow grounds results in shots that are consistent from start to finish.
But the Olympus doesn't just provide brute strength. It offers simplicity and refinement in equal measure. The doserless chute can be adjusted up and down to direct the coffee exactly where you want - this helps minimize spillage. And the barista light lets you see when the basket is full. Eureka's exclusive micro-metric grind adjustment dial is ergonomically placed right at the front and has a satisfying, premium feel. It's also sensitive enough that even a 10-second adjustment in shot time is never more than a half-number away, but precise enough to make a one-second adjustment with ease. Add in its timed dosing system, which can be adjusted with one button to minimize mess, or bypassed in manual mode, and you've got one of the easiest grinders out there.
As if that weren't enough, we also love how cleaning the burr chamber is a breeze on the Olympus. In exclusive Eureka fashion, you can access the burrs by removing three bolts. From there, you can take out the upper burr, sweep out the chamber, and ensure that next week's shots are just as good as the last. The biggest bonus: removing the burrs doesn't affect your grind setting.
There's no grinder that we more confidently recommend to those seeking the perfect flat burr grinder for their high-volume business or home espresso lab. With its performance, design, and ease of use, the Eureka Olympus is a grinder worthy of the praise it receives, and may well be the final upgrade you've been looking for.