LUCCA M58 vs ECM Synchronika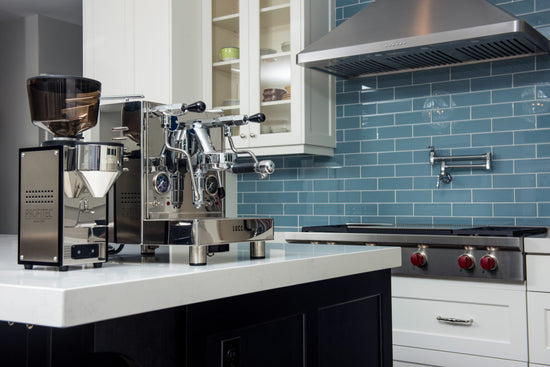 Because we're asked to compare the finest espresso machines every day, it would be easy to take things for granted. In 2016, the playing field became packed with an unprecedented level of performance, refinement, finesse, and now custom aesthetic touches. The LUCCA M58 was our first custom espresso machine model at Clive, and we worked with Quick Mill to elevate the feel of the machine by updating all the details that the user sees and touches. The custom glass PID with metal buttons, a navy blue bezel and white LED's introduced a game-changing shot timer. Even the portafilters received attention with chromed handles for balance on the bottomless and double spouts (included with the machine). The Profitec Pro 700 has been the most commonly compared machine with the LUCCA M58, but as 2016 winds towards a close a new question has emerged…how does the ECM Synchronika compare to the LUCCA M58? And is it worth the price difference?
When we get to this level of equipment, it's a lot of fun to compare because all of our dual boiler espresso machines are great, and these flagship machines are both brilliant. Want to pull shots like your favorite coffee shop? No problem: we'll help you pair your machine with the right grinder and match your machine's brew temperature to the shop's. Because both machines use the e61 group design with PID temperature control, the good news is that both machines will pull identical shots.
If you were looking for a clear differentiator, then that might not be good news. Functionality wise, both machines are very similar. They both have built-in shot timers, so you'll know right when your shot is perfect. The M58's unit displays tenths of a second with larger numbers and matches the color and shape of the machine's gauges. The PID is installed higher up on the machine for easy visibility. The Synchronika's PID has a metallic finish and can be turned off for those that don't want technology to distract, and it also offers the option of setting a cleaning reminder after a certain number of shots have been pulled.
A bigger potential difference lies in steaming, and it's important to find the right amount of power for the user. Both machines use joysticks to deliver instant steam power (and hot water) from their insulated "no-burn" wands, and you'll be able to tap the joystick when your milk reaches the perfect temperature. But how much milk would you like to steam? Are you a macchiato fan, or do you like a six-ounce cappuccino? Or even a couple of 16oz lattes?
The M58 uses a 1.4-liter boiler, and the Synchronika uses a 2-liter boiler. The M58 can also be switched on the fly to 20 amp mode for simultaneous boiler heating, so it can warm up faster and respond quicker. For people that are steaming six ounces of milk or less, the M58 will likely provide an easier learning curve because its steam power is more manageable. Installing the included two hole steam tip and adjusting the boiler temperature down can make either machine easier to manage with smaller drinks, but for a bigger drink (like 12-16oz lattes) the larger two-liter boiler is faster. If you entertain or want to make multiple smaller drinks like cappuccinos, cortados, gibraltars, or americanos, the M58's 20 amp mode will keep it ready to crank out those drinks as fast as you can make them.
ECM does not recommend setting the Synchronika to simultaneous boiler heating because its combined 2600 watts could cause premature wear on the electronics and wiring. The M58 only draws a combined 1900 watts, so most kitchens' circuit breakers have no problem running this machine and a grinder on the same outlet. With either machine, we recommend using an appliance timer so it's ready when you are.
The internal layout of the German-engineered Synchronika and use of stainless steel boilers are two of its most compelling details. This design has home maintenance in mind and even the boilers can be easily removed with simple tools to access other parts. But the differences under the hood are not as fundamental as some enthusiasts stress on the coffee forums. Both machines are hand-built in Italy. Both share the same fundamental dual boiler design with the same wear parts. Their PIDs and rotary pumps come from the same suppliers, and both machines have three-liter water reservoirs with easy plumbing options. Quick Mill's dual boiler design has been proven on the market for twice as long as the Synchronika's, which means there is a lot more data for its long-term durability. The wires are not as neatly tucked in on the LUCCA, but ongoing maintenance in either machine is going to be primarily gaskets. Also, we have worked with Quick Mill to improve the M58's wiring harness to be more organized and allow access to important internal parts. As of October 2016, we are shipping M58's with an improved wiring harness that makes service work easier.
Another difference that we think is important enough to justify its own paragraph is that of boiler materials. Stainless steel is often touted as the cleanest possible material, offering the best long-term durability. The health conscious are often attracted to stainless steel, but we think the patented TEA plating used by Quick Mill and many other commercial manufacturers may be an even better solution for some users. It is the latest food-safe technology to meet the strict NSF approval for brass. This means it's a better conductor and warms up faster than stainless steel, costs less to produce, and it's also non-porous and chemically inert. Many people don't know that stainless steel can corrode if used with water with too high of Ph, causing unsafe leaching. Both TEA plating and stainless steel resist calcium buildup and simplify long-term maintenance needs. The EU is incredibly stringent on materials used in food appliances, and TEA plating is viewed as the most recent and rigorous technique for protecting water purity.
At $2695 and $2999, both the LUCCA M58 and ECM Synchronika are fantastic long-term investments. Perfecting coffee drinks at home or the office offers a wonderful handcrafted satisfaction with huge cost savings and convenience. With your favorite double shot costing less than fifty cents, this machine should pay for itself multiple times in the first year. And plan on your machine lasting ten or more years with routine maintenance, because our technicians are here to support you in learning about that.
If you have more questions or would like to compare the subtle nuances between these fine machines, give us a call or send us an email today!