Profitec Pro 500 Espresso Machine Overview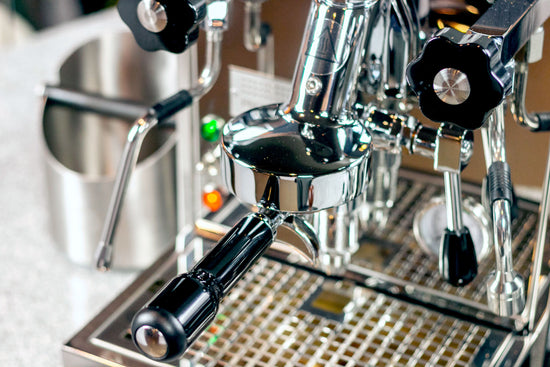 How do we love the Profitec Pro 500? Let us count the ways. This heat exchanger has re-invigorated excitement about this timeless technology and quickly gained a large following thanks to wonderful reviews, straightforward servicing, performance and value.
Profitec and their sister company ECM have combined the best parts of rational, German design and traditional, Italian manufacturing to produce some of the most well-engineered espresso machines available. The Pro 500 is their entry into the heat exchanger category and it represents an inspiring piece of hand-built craftsmanship.
On the outside, the machine is modern and masculine. Virtually a twin of the Pro 700 in a smaller footprint. All of the edges of the machine feature soft angles instead of sharp corners. The drip tray grid and cup rail have a modern architectural feel, while the large steam and hot water knobs remind us of single-engine aviation control knobs. We feel this machine is right for the individual whose passion for great coffee extends to other romantic pursuits as well.
Internally, the Pro 500 is a maintenance dream. Ask any of our in-house technicians at Clive and they will enthusiastically recommend the Pro 500 for a long life, easy-to-maintain machine. Instead of filling the machine with lots of extra wiring, solenoid valves and water tubes, the team at ECM/Profitec opted simple efficient design that ticks all the marks for those who value ease of use.
The Pro 500 is a vibratory pump, heat exchanger espresso machine. This means you have a huge 2L steam boiler - the same found on the Pro 700 and ECM Synchronika. The brew water temperature is achieved through heat from the steam boiler while passing through to the grouphead. As such, it doesn't have as precise of control over the brewing temperature as you will find in double boiler machines, however, you'll be able to pull shots and steam milk at the same time. And for $1,000 less than a comparable double boiler - it represents amazing value, quality and consistency.
If you're looking for top of the line performance in a heat exchanger, you'd be hard pressed to find a machine better than the Pro 500.