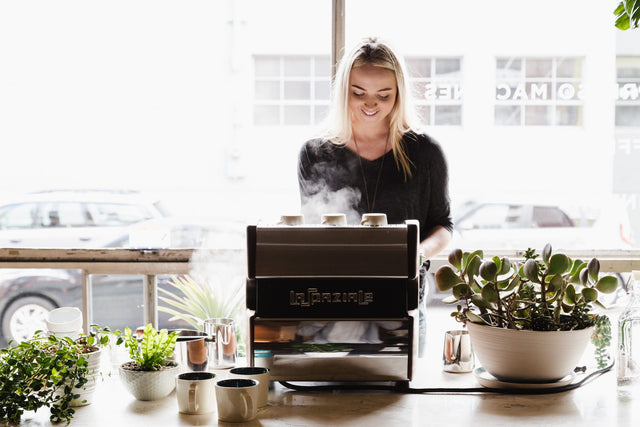 La Spaziale S2 EK Spazio Commercial Espresso Machine - 2 Group 110v
Compare Machines
Description

At only 21" wide, this compact commercial powerhouse is THE high-volume solution for space-limited cafes and carts.

Includes free installation. Speak with our experts today!
What you will need
30-day love it guarantee

Home espresso is a big investment. We want to make sure that you are 100% in love with your new setup. You have 30 days to return your machine to us without risk. While we can't pay for the shipping on the way back if you change your mind (we absolutely will if there is a problem), we can make the rest of the process as easy as possible.
Free shipping on orders over $75. To be eligible for free shipping, the final order amount, after applying any discounts, including rewards points, must exceed $75.

Returns are accepted up to 30 days from the date the order was delivered. Smallware items must be unused. Parts are non-returnable. Open Box, Like New, and Factory Blem items are also non-returnable.

And if you end up needing warranty, we're here to help.
Need to Know
For our customers that want the ability to pull consistent, traditional cafe-grade espresso back to back (all day if necessary), we highly recommend considering La Spaziale's S2 commercial machines. Available in one, two and three groups, the EK model offers volumetric shot programming (as well as the option to manually control shots) and is available in 110v or 220v at no added charge. The S2 has been designed for the rigorous demand of the Italian market, so in American cafe or office use it won't even break a sweat. The reason for this machine's tremendous capacity and consistency lies in its patented steam-heat exchanger system. In contrast to dual boiler espresso machines (which have a finite shot capacity before they need to reheat), the huge volume of steam from the S2's three liter boiler (for one group, five liter for two group) heats the brewing water as it passes from the water line to the group head. This improves efficiency (because the machine doesn't need to reheat as often), improves brew temperature consistency (because the brewing water isn't draining the boiler), and less opportunity for scale buildup than traditional heat exchangers (which rely on water circulation).
The La Spaziale S2 EK Spazio is tuned to pull shots consistently at 200 degrees, which is perfect for most coffees. For very light or dark roasts, you may prefer to have the added temperature control of a dual boiler. But for customers that don't want to change brewing temperature, a heat exchanger will produce a more temperature stable shot than a dual boiler at about half the price. Another advantage of heat exchangers is their mechanical simplicity means maintenance is more affordable and less frequently needed. Many of our customers choose to improve their espresso by saving money on their machine to invest in a top-of-the-line grinder, as this makes a more noticeable difference in the flavor.
What's Included
Single portafilter complete
Double portafilter complete
Plastic tamper
Replacement screen
Drain hose
Cleaning brush
Key for the group head
Home Barista Starter Kit (courtesy of Clive)

2-year parts and labor warranty provided by Clive Coffee
1-year manufacturer warranty
Details
Automation: AV Auto-Volumetric
Plumbed, built-in rotary pump
Plumbed drain tray
Dual gauge: boiler pressure and pump pressure
Stainless steel hot water spigot
Multi-Function Keypad with 4 programmable buttons and manual button
2 stainless steel steam arms
ETL/NSF certified for commercial use
*La Spaziale commercial machines require professional installation.
**Plug not included.
Resources