Crafted in Portland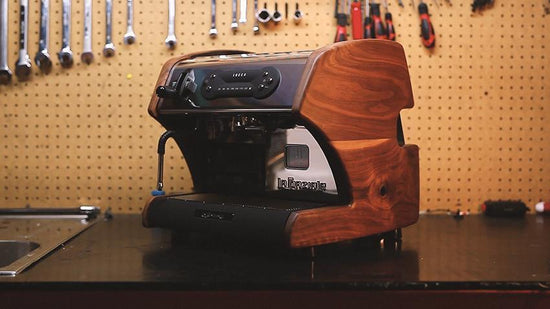 There's something captivating about formed and polished metal matched up against the soft irregularity of wood. The contrast elevates an espresso machine beyond the pure utility of forcing hot water through finely ground coffee.
We have offered our own take on wood products for several years - from pour over stands to tampers to portafilters. We use a precision machine shop in southern California to produce our machined stainless steel bases, while our Portland craftsman turns each handle by hand in walnut, maple, bubinga, and wenge.
Clive was the first espresso machine retailer to offer custom hardwood panels on multiple machines for the home market. Our espresso machine side panels are offered in a distinctive palate of beautiful hardwoods. From the LUCCA A53 and M58 up to the La Marzocco GS/3, our panels are an easy way to make your machine a standout in your kitchen or office.
We've had a long relationship with our craftsman, Dan Garfield. We visited his shop to gather the background story for what goes into Clive wood products.