Top 3 Iced Coffee Recipes for the 4th of July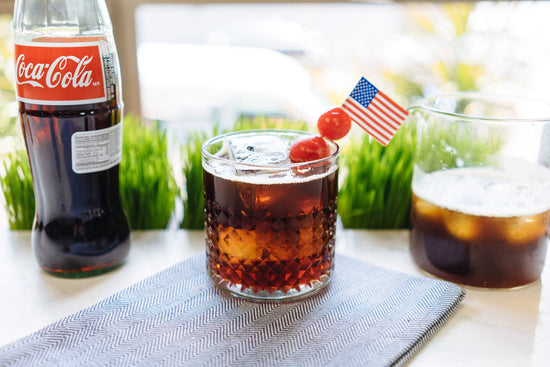 While most of the Clive team survives on straight espresso and black coffee by the hour, we do enjoy the occasional coffee cocktail that possesses a little extra love and creativity. This is especially true during a holiday that begs for a rooftop barbecue while celebrating the independence of our country. Plus, with all of the celebration, you might need a little pick me up to ensure you don't miss the fireworks. This 4th of July, add some red, white and blue to your day with these simple and refreshing iced coffee and espresso drinks.
Cold Brew & Coca-Cola

Ingredients
4 oz Cold Brew

4 oz Mexican Coca-Cola (made with real cane sugar)

American flag toothpick

Maraschino cherries

Ice

Optional: a splash of whiskey
Preparation
Combine ice, coke, and cold brew into a glass. Garnish by adding two cherries to the flag toothpick.
Grapefruit & Honey Cold Brew

Ingredients
4oz Cold Brew (for this drink we recommend a more fruity and floral single origin African coffee)

2 oz Grapefruit Juice

2 oz Club Soda

Ice

Grapefruit peel
Preparation
Combine cold brew, grapefruit juice, and club soda to your glass. Peel the grapefruit to your desired length, curl and add to the rim of the glass.
Iced Mint Latte

Ingredients
5 oz Milk (whole milk, Oatly, etc.)

1 oz Espresso (we used the Bronson blend from Verve)

Muddled Mint

Chocolate bitters

Ice

Mint leaf

Recommended: a splash of Bailey's Irish Cream
Preparation
Combine ice, milk, chocolate bitters, and muddled mint into a shaker. Shake, strain, add your mint leaf...and serve!
If you need some cold brew tools, we've got you covered. Now go and enjoy this spectacular holiday with some friends and family! Happy Birthday, America!