Eureka Mignon Espresso Grinder Overviews (Silenzio/Specialita/Perfetto)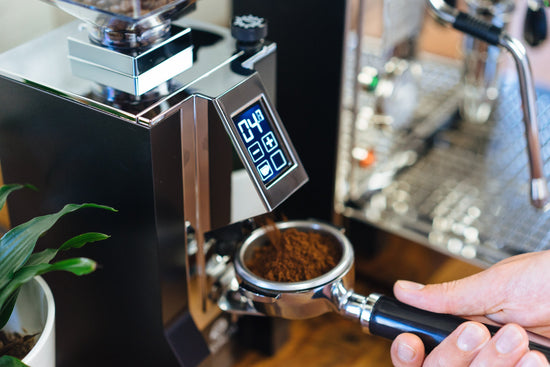 Video Transcript Below:
Eureka is known for using its decades of experience in designing and manufacturing innovative commercial coffee grinders. They use this pedigree to pack power and convenience into machines built specifically for home baristas. We don't think this prowess has ever been more apparent than in their new Mignon line of espresso grinders. 
In combining a unique, modern design with great specs in a compact stainless steel body, Eureka's new lineup of Mignon grinders can't be beaten at their price point. Let's cover some of the core similarities: All three grinders produce wonderfully fluffy grinds that fall from the chute in a beautiful "waterfall" making it easy to distribute the grinds evenly in your portafilter basket for even extractions. That in combination with Eureka's patented micrometric grind adjustment and timed dosing make all three a joy to use. They all share the same all-metal casing and are incredibly easy to clean in classic Eureka fashion, making these grinders both wonderfully durable and easy to maintain. They're all shockingly quiet -- so much so that you can easily carry a conversation without raising your voice while using them.
Despite their similarities, these three grinders each offer a unique combination of features. We'll compare all three, side by side, to help you find the one that's right for you.
Mignon Silenzio
Let's start with the Mignon Silenzio. It's designed with simplicity in mind. Instead of a touchscreen display, it has a simple timed dosing dial and manual grinding toggle on the lower right-hand side. Nothing distracts from its sleek Italian design. For those that want to minimize the number of screens and LEDs in their kitchen, it's perfect. It's also the quietest and most affordable of the bunch, meaning from start to finish your experience will be simple and relaxed. With 50mm flat steel burrs and Eureka's classic "micro-metric" grind adjustment ergonomically located at the front of the grinder, you're able to precisely dial in smooth and consistent shots.
Mignon Specialita
Onto the Specialita. Decidedly the staff favorite of the trio, this top of the line grinder offers larger 55m flat steel burrs compared to the 50mm of the Perfetto and Silenzia. It features a beautiful white-on-black touchscreen display with two timed dose settings and the same precise "micro-metric" adjustment. This increase in burr size translates to improved grind consistency and cafe-quality shots. They're also significantly better at mitigating heat when pulling successive shots which means you can impress every guest at your next dinner party. Despite this bump in burr size and blazing fast grind times, the Specialita is still much quieter than most espresso grinders and nearly as quiet as the Silenzio while retaining the same small footprint. The Specialita also happens to be the best single dosing grinder of the bunch and among the best single dosing flat burrs grinders we've ever tested. Low retention of 1.5g and fast grind times of about 9 seconds make it a joy to use whether you fill the hopper or not.
Mignon Perfetto
The Perfetto sports the most unique feature of these three grinders. Its grind adjustment dial covers the entire spectrum of brew methods in just one rotation. The dial itself even has markings for different brew methods, making it easy to switch between them. The tradeoff here is that the dial is incredibly sensitive which can make the minute adjustments required when dialing in for espresso slightly more difficult, but we were still able to make one-second adjustments after a little practice. The Perfetto sports the same 50mm flat steel burrs and motor as the Silenzio, along with the touchscreen display of the Specialita. This means you get incredibly quiet operation as well as the precision of digitally timed dosing. This combination of flexibility and particle size consistency across the board makes the Perfetto an ideal choice for those who enjoy a variety of brew methods on a regular basis.
Looking for simplicity, performance, or versatility, Eureka's new line of Mignon espresso grinders has something in store for you.