Eureka Oro Mignon Single Dose Grinder Overview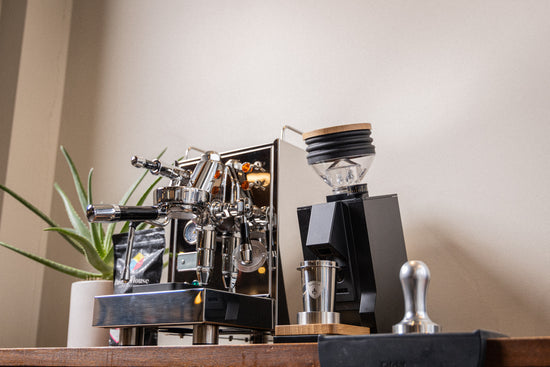 Eureka's competitive home espresso grinders are known for their quality build, silent grinding, and single dosing capabilities. So, what's different about the Eureka Oro Mignon Single Dose grinder? Our overview video will unpack exactly that. 
Different from all other Eureka grinders, the Oro Mignon Single Dose was designed, as it's named, specifically for single dosing. Sitting at a 15-degree angle, it's able to keep retention to only a few tenths of a gram, undetectable in a shot of espresso, and is extremely consistent in back-to-back doses. If you wish to grind enough for a pour-over, its hopper holds up to 45g of coffee. It includes a Blow Up Cleaning system, a bellow designed by Eureka to help minimize retention and assist in cleaning the burr chamber in between doses for greater accuracy. The included 45g, brushed stainless steel dosing cup transfers all grounds to your portafilter or coffee filter, avoiding any static cling. This cup is compatible with any 58mm portafilter basket. It rests on a wooden base with a magnetic coupling. The hopper can be used with or without the bellow and includes a matching wooden hopper lid as well as a clear lid. Another noticeable change is the metal revolving tab with slits, intended to be a part of your everyday workflow. Here's how it works —  when adding beans to the hopper, you keep the tab closed. Engage the motor with the lateral start and stop activation switch on the rear of the chassis, then open the tab, allowing all the coffee to move through the grinder in the same way. You close the tab while using the blow-up hopper, disengage the grinder, then use the bellow once more for cleaning. Eureka's attention to detail at all touchpoints doesn't go unnoticed. 
Like the Oro XL, the Single Dose grinder has larger 65mm flat stainless steel burrs, an upgraded motor speed of 1650 RPM, and 320-watts. Compared to other single-dosing grinders, this is the fastest, grinding a couple of grams per second. It uses the same micrometric adjustment knob, a larger size like the Oro XL and Atom line, allowing you more ease in dialing in and switching back and forth between brew methods. Eureka still managed to keep its signature nearly-silent grinding, around 60 decibels, metal casing, and a small footprint. This grinder measures 12.5 inches tall, 5 inches wide, and 10 inches deep. With the simple activation switch on the grinder, and lack of a touchscreen or timed dose settings, the routine of using this grinder is simple and intuitive. 
If you're in the market for a new grinder and single-dosing is a high priority, we highly recommend taking a look at this one. With the Eureka Oro Mignon Single Dose grinder, you get the speed, accuracy, and build quality of high-end commercial grinders, with the simplicity and ease of use needed in a grinder for the home. If you have any questions about whether or not this grinder is right for you, leave your comments below, or email us at hello@clivecoffee.com