LUCCA X58 by Quick Mill Overview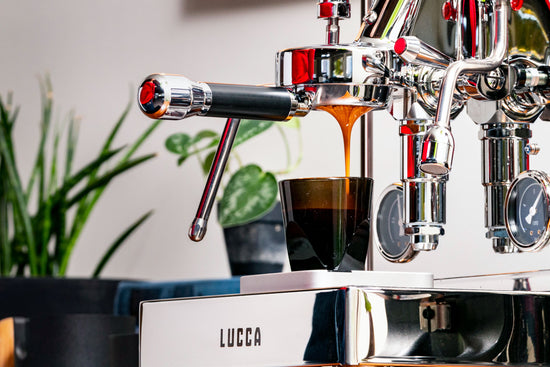 Founded in 1945 in Milan, Italy, Quick Mill has become one of the pioneers in the world of espresso. This is our second espresso machine collaboration with Quick Mill, and we couldn't be more excited. This compact heat exchanger combines proven technology with beautiful design all while keeping a sense of traditional Italian heritage.
At first glance, the X58 does look related to the widely loved LUCCA M58. From the curved side panels, mesh style drip tray, sleek cup rail, and of course, our favorite joystick steam and hot water knobs. 
But let's not forget that we're looking at a completely new machine. The LUCCA X58 is a compact heat exchanger with a stunning E61 style group head. Standing at 15.25 inches tall, 11.5 inches wide, and 19 inches deep, the X58 is an attractive choice for those who might be short on counter space in the kitchen.
As a heat exchanger, you're able to quickly pull shots and steam milk at the same time without any delays in your workflow. However, It's important to note that a routine cooling flush is necessary before your first shot of the day for the most optimal brew temperature.
Inside the machine, you'll find a 1.8L stainless steel steam boiler paired with a 1400w heating element resulting in maximum steam performance. On the face of the machine, you'll find a PID for precise steam temperature control, which also doubles into your integrated shot timer. With just the flip of the brew lever, the timer will automatically start timing your shot. 
Easily reaching 1.5 bar steam pressure, you certainly can brush on your latte art to impress your friends and family. Simply lock the joystick into place for instant on/off steam action, and the insulated steam wand will get to work. In testing, we found steaming an 8 oz pitcher of milk only takes about 15 seconds with the included two-hole steam tip. If you wish to increase steam speed, you'll also find a three and four-hole tip within the fully loaded accessory box.
Also within the box, you'll find a premium wood-handled stainless steel tamper, a double spouted portafilter as well as the coveted commercial-style bottomless portafilter. 
For those who are looking for something elegant and unique, with just a touch of modern tech, the LUCCA X58 is an excellent option. From the proven E61 style group head to the charming joystick knobs, we know this machine is special. If you're searching for an upgrade or stepping into the world of home espresso, this machine is certainly worth a second look.