Pro 300 vs Pro 400: Machine Comparison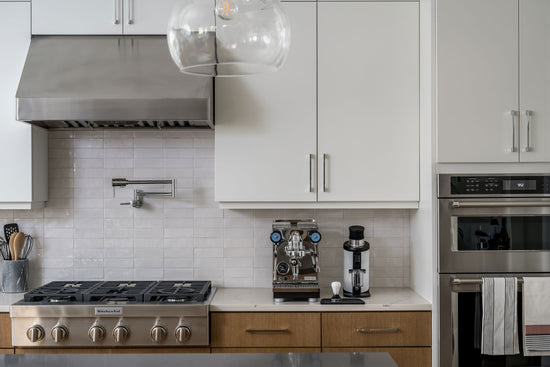 The discussions about whether you choose the Profitec Pro 300 or the Profitec Pro 400 boils down to—do you want a dual-boiler or a heat exchanger. Let's jump into the pros and cons of both the Pro 300 & Pro 400, respectively, and briefly discuss the critical differences between the dual boiler and heat-exchanger machine categories. 
The Pro 300—compact, stylish, & straightforward
Not all dual-boilers are created equal, and the same is true for the Profitec Pro 300. The Pro 300 is in the compact, reservoir-only dual boiler category and operates on a vibratory pump. You have dedicated boilers for steaming and brewing coffee which operate independently of each other, meaning you have direct control over the temperature of both boilers to tailor your shots and milk beverages to your liking. 
The Pro 300 stands out with its incredibly clean, internal build quality and simplistic operating interface. You flip a rocker switch on and off to start and stop your shot. The PID doubles as a shot timer allowing you to time your extractions for that extra layer of precision.
Additionally, there's no waiting period to start steaming milk like with single-boiler machines; you can steam milk and pull shots simultaneously with the Pro 300. 
One of the biggest cons of the Pro 300 is that it has a small steam boiler, and steaming milk drinks above 12oz can be a job, and steaming more than 3-4 back-to-back cappuccinos will zap the boiler's pressure. If you desire more steaming capabilities and performance yet still value the seamless workflow of a dual-boiler, you may want to consider the Profitec Pro 600 or the Pro 700. Ultimately, the Pro 300 shines when making espresso, and although you can make a few small milk drinks back to back, it won't wow you with café-esque abilities. This beautiful yet utilitarian machine is for the occasional milk-beverage drinker. 
Profitec Pro 400—the feature-packed heat exchanger 
Profitec hit a home run with the Profitec Pro 400, reinvigorating the heat-exchanger category from outdated outliers to fun and romantic contenders. The main con with heat-exchanger machines is that they lack a dedicated brew boiler for pulling shots, making cooling flushes necessary to get the brewing water to an appropriate temperature. By extension, since most HX machines, including the Pro 400, lack a PID and a brew boiler, the brew temperatures are approximate; thus, for folks who want direct control over brew temperatures, we recommend a dual-boiler.
Although the Pro 400 still gives you indirect control over brew temperatures, they do give you some nice variation with the 3-way temperature switch, which helps alter the temperature more accurately than other heat exchange machines with three pre-set brew temperatures.  Compared to other heat exchangers, the Pro 400's cooling flushes are more consistent, and back-to-back shots vary less, eliminating the need for temperature surfing. 
Moreover, automatic pre-infusion allows you to extract more evenly by gently saturating the espresso puck before applying full 9-bar pressure. These features may seem like a gimmick, but the Pro 400 does pack the machine full of helpful features to give you that added bit of control for that morning (or evening) caffeine boosts—with the internal build quality to back it up. The Pro 400 is the perfect machine for the home barista who wants to steam beautiful cafe-quality microfoam and have a little more control over their shot temperatures. 
| | |
| --- | --- |
| Dual Boiler (Pro 300)    | Heat-Exchanger (Pro 400) |
| Dedicated boiler for steaming and brewing | One steam boiler for brewing and steaming |
| PID temperature control  | Pressure stat temperature control (3-way switch) |
| No pre-infusion  | Automatic pre-infusion  |
| Saturated group head | E61 group head |
| Mirrored stainless steel panels  | Brushed stainless steel panels  |
It bears mentioning that both machines can pull you amazing espresso shots, but what matters is what level of involvement you want with your espresso-making experience. The Pro 300 is more seamless and straightforward. The Pro 400 is more hands-on and for folks who like to tinker. Either way, you're in for a lot of great espresso.