Profitec Pro 300 vs ECM Special Edition Classika Classika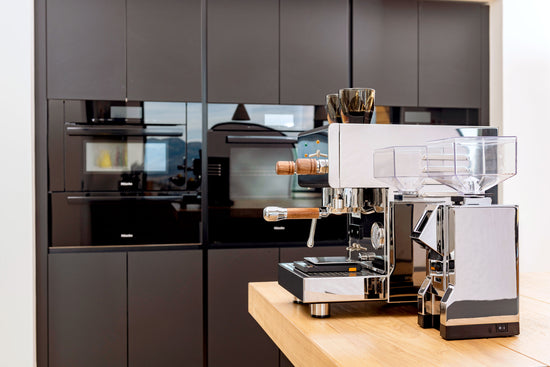 When we took our first peek at the Profitec Pro 300 espresso machine, we were immediately hooked. The advantage of a dual boiler machine at the price of many single boilers has quickly made this one of our most popular offerings. And when our custom Clive Special Edition Classika PID Espresso Machine by ECM arrived we were astounded by its beauty and remarkable performance for such a compact machine. We thought we'd share some details on these two espresso machines side by side, examining how they stack up against each other and giving some reasons why you might choose one over the other.
The Profitec Pro 300 and the Special Edition ECM Classika PID espresso machine share identical build quality with well thought out German engineering. Being sister companies, the two even share the same factory. With either machine, you can be assured you will receive a machine with neatly organized wiring, easily accessible internals and precision in every inch of the machine.
The Profitec Pro 300 is designed with the convenience of two boilers, while still maintaining a relatively small footprint. And being so compact, it maintains a much lighter weight than most other dual boilers. This espresso machine features two small stainless steel velcro-wrapped boilers, an integrated grouphead with a heavy-duty commercial portafilter, clean lines with a beautifully welded drip tray, and a simple switch to activate your shots. It even has a shot timer to dial in that perfect shot.
The Classika has a 0.75-liter single stainless steel velcro-wrapped boiler, a traditional e61 grouphead and PID (identical in size and function as its big brother the ECM Synchronika and Profitec Pro 700) and features beautiful panel options that we developed with ECM (gloss white, matte black, and stainless steel). While the Pro 300 is all about simplicity with a rational, clean shape, it focuses on combining performance and convenience in the most economical package. The Classika highlights more of the traditional Italian look and feel with some added Clive touches. The design is focused on bringing the best of our flagship dual boilers like the LUCCA M58 into a compact and economical footprint.
Functionality
Aesthetics aside, the biggest difference between these two machines is in the functionality, which will translate into a unique experience and a slightly different morning routine with each machine.
The ECM Special Edition Classika
Being a single boiler, you will either have to steam your milk first and then pull your shot, or vice versa, but that allows you to really hone in your skills so you can perfect your shots and cappuccino milk, one at a time. Once you switch on the steam mode, it only takes about 90 seconds to generate enough steam to froth up a 12-ounce pitcher of milk. During this time, you can be fetching the pitcher from the refrigerator (to allow more time to froth), pour the milk, clean the portafilter out, and be ready to start steaming.
The lever that you pull up to start your shot feels so smooth and satisfying, and the syrupy shots we have pulled from this machine have been superb. Having a relatively large brew boiler (0.75-liters) and mechanical pre-infusion means there will be no difference in pulling a shot between this machine and our flagship ECM Synchronika, Profitec Pro 700, or LUCCA M58. Lastly, the Classika's joystick for the steam and hot water is a nice feature that allows precise control and is fun to use.
The Pro 300
Making any drink on the Pro 300 is remarkably easy. The PID keeps the brew boiler's temperature stable so you can go straight to pulling your shot of espresso, begin steaming your milk, and have a cappuccino in a minute and 15 seconds. Or, if you are more of an Americano person, you can draw some hot water from the large spigot without interrupting your shot. Once your first drink is complete, the machine will quickly reheat both boilers so you can make your second drink without waiting. Both machines display the temperature and shot timer when you start your shot.
Temperature Control
Both the Pro 300 and Classika need approximately 20 minutes to heat up completely. Once fully heated, they utilize a PID which carefully regulates the brew boiler and can be adjusted on the fly. This is a big game changer if you have previously owned a machine without a PID and are [unfortunately] acquainted with "temperature surfing" and the related constant guesswork. Once these machines are ready to go and display the temperature you set them too, you can focus on perfecting your shots.
So which one is better?
Choosing between two similar machines can be a challenge. But here are a few thoughts to consider when choosing which machine is right for you.
Time
If you are pressed for time, or that is a very important factor for you, the Pro 300 will deliver drinks faster because it is a dual boiler. This allows you to pull your shot and steam at the same time, and not have to wait for the machine to heat up or cool down.
The Classika will take a minute longer or so to make a cappuccino or latte because you will need to wait for the machine to heat up or cool down till you reach the right temperature.
Type of drinks
The Classika offers a more "classic" manual interaction for pulling shots and will be the dream machine for the espresso purist.The increased thermal mass offered by the e61 grouphead and larger .75 liter boiler, along with mechanical pre-infusion contribute to a more consistent and forgiving shot.
The Pro 300 allows for on-demand steam, and can easily make several milk drinks in a row.
Aesthetics
For some, the classic lines and proportions of the Classika, paired with the time-proved e61 grouphead, will be a fetching addition to the kitchen.
The Pro 300 has a more modern, subdued look to it, and is only available in polished stainless steel.
If you're looking to add a touch of wood to your machine, both machines match nicely with our Clive Portafilters, available in a variety of wood finishes.