Profitec Pro 700 Espresso Machine Overview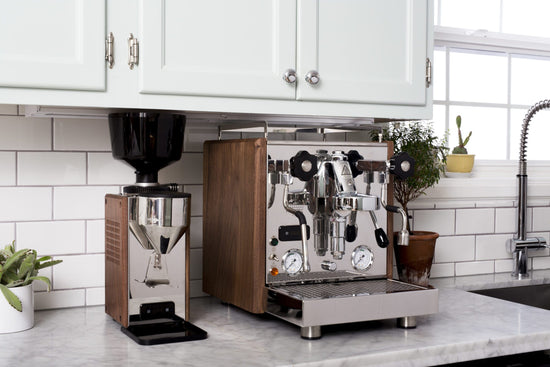 The Profitec Pro 700  is one of our favorite E61 espresso machines in the Clive Coffee showroom. The shiny mirror exterior, perforated grid drip tray, symmetrical gauges and twist control knobs all come together perfectly on this stunning piece of equipment.
The Pro 700 has everything you could ask for in an espresso machine. Dual boilers with PID temperature control, rotary pump, a digital shot timer, and no-burn steam wand and hot water arms. Those using tall cups will appreciate the long drop distance between the portafilter spouts and the drip tray. The portafilter handle is fairly heavy. It feels nice and evenly weighted as you remove it from the group head for use.
The group head on the Pro 700 may look like your stock-standard E61 brew group...but it has a secret. The internal 'mushroom sleeve' is solid stainless steel rather than chrome-plated brass. This tiny modification is an example of the attention to detail that Profitec should be congratulated on. In the long term, this stainless steel part will require less maintenance than one made from the more traditional materials.
The same type of ingenuity has been applied under the 'hood' of this machine. The internal components are placed logically for optimal function and easy access. This is German precision engineering at its finest. Any service technician will surely breathe a sigh of relief when they open up this machine to work on.
When the machine is not plumbed in the cup warmer tray must be removed entirely to access the water reservoir. This is easy to do, as the rails serve as handles. The machine automatically shuts down if you let the water level run low.
One point to note on using the steam wand and the hot water arm. From tightly turned off, the knobs need to be turned almost one full rotation before the spring-loaded valves activate. While some baristas may find this cumbersome, the truth is that these knobs needn't be tightened fully when not in use. You can keep it at the 'just off' position and this will give you more control as you'll only need to turn the knob a little way to open the valves. This is particularly handy with the hot water as you can control the speed of water flow.
We pulled shot after shot on the Profitec Pro 700. The consistency in cup was notable. The 4-holed steam wand achieved silky smooth textured milk with ease. The macchiatos were so amazing it was hard to stop drinking them! It is clear that Profitec knew exactly what they were doing when they built this machine. We can't wait to see what other developments and features they bring to the table in the future.
Still unsure? Start from the beginning with How to Choose an Espresso Machine.