Tech Espresso Troubleshooting: Is It The Machine? Or Is It You?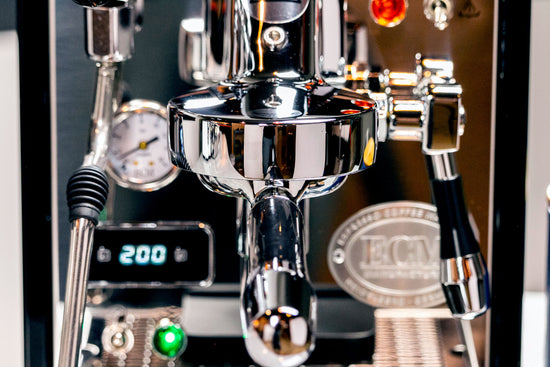 We hear it all the time — you just bought a new espresso machine, and your shots aren't living up to your expectations. You feel like you spent too much money to get espresso this bad. What's wrong with the machine? What's wrong with the coffee? Well, maybe nothing. In this blog, we'll walk you through the three troubleshooting steps we have each new barista take when their new espresso machine — or technique — is in question. Testing the temperature, pressure, and flow rate will indicate whether or not any issues you're experiencing are machine-related or not.
1. Temperature Check
First, you'll want to check the temperature of your machine. Did it heat up all the way? If your machine has a PID, it should read between 198 and 202 degrees Fahrenheit for your brew boiler and between 255 and 272 degrees Fahrenheit for your steam boiler. If you don't have a PID or are using a single boiler or heat exchanger, the pressure gauge on your machine should sit between 1 ¼ - 1 ¾ bars. Make sure you're using proper water and have set the machine to the correct water source. Once you've waited up to thirty minutes to heat, which is usually more than enough time, check the temperature. 
2. Pressure Check
Next, ensure that your machine can build adequate pressure. To test this, insert your blind, backflushing disk into your portafilter, lock it into your group head, and engage your pump by lifting the brew lever, pushing the button, or sliding the paddle — depending on your machine. Check the needle on your gauge and make sure it sits between 8 and 10 bars of pressure. While the machine is building pressure, you'll also want to confirm the needle on the gauge is rising smooth and steady.
3. Flow Rate Check
Lastly, check the flow rate of the espresso machine. You're looking for about 250ml of water in 25 seconds. Remove the portafilter from the group head, place a measuring cup underneath, and start the pump. Allow the cup to reach 250ml before stopping the machine.
What happens if everything is working properly?
If your machine passes all these tests, this is indicative that the machine is just fine. So why are your shots pulling so poorly? There are a few other non-machine-related causes for bad espresso, and it comes down to the coffee you're using, what grinder you have, and what recipe you're following.
1. Check your coffee 
First, your coffee. We stress this in all our educational videos — your espresso shots are only as good as the coffee you use. Even if your machine is working perfectly and you're grinding fine enough, your shots could run too slow or too fast if your coffee isn't freshly roasted. Buy beans that are 5 to 10 days off roast. Don't buy pre-ground or coffee that doesn't have a roast date on the bag. The fresher, the better!
2. Adjusting the grind size 
Next, your grinder. You're using a grinder, right? Coffee changes as it ages, so having a grinder will allow you to control the speed at which your shots pull. The smaller the grind size, the longer it will take for your shots to pull. The coarser the grind, the faster your shots pull. If your shots are running too fast, your coffee is fresh, and your grinder is as fine as it can go, you either need to calibrate the grinder or potentially get one better suited for espresso. If you need recommendations, we're here to help.
3. Practice makes perfect! 
Lastly, your technique makes a difference. Try to eliminate as many changing variables as possible by staying as consistent as possible. With a scale, measure and use the same amount of coffee as your dose every time. Be consistent with your tamping and distribution technique and aim for the same output to pull between 25 and 35 seconds. When you're troubleshooting and just trying to get a shot to pull decently, seeking these parameters is a great place to start. Once you get the hang of it, there is a world of other recipes and much exploring to do. 
If it turns out that you need help with your machine or your technique, we're here for you. We have expert technicians to troubleshoot machine difficulties and Coffee School courses that will help you become a skilled home barista. Reach out to our team at support@clivecoffee.com or leave any questions or comments below.