Visiting Profitec in Germany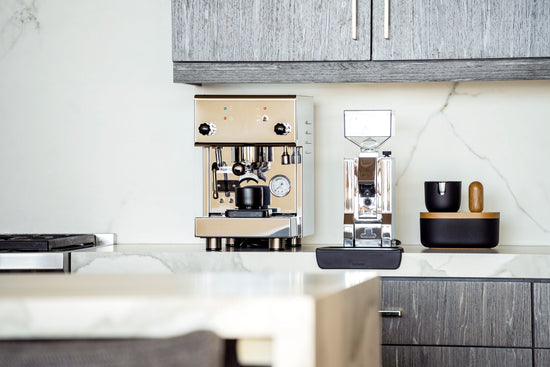 When we think about German engineering, the big automakers (Audi, Mercedes, BMW) certainly come to mind. But when we consider that up-close, nuanced rationality of German precision, what comes to mind first, for us, is Profitec.
"When I visit Profitec in Heidelberg, it reminds me of my German grandparents and aspects of my extended family in Bielefeld," says Clive founder, Mark Hellweg. "They like things to be structured just so. If you visit my family, they'll go so far as to give you a soft towel to dry off the chrome bathroom fixtures after a shower."
So there's a familial sense of nostalgia when visiting Profitec. From the parts and tools that are arranged perfectly in their factory to the exacting layout of the internal components in every machine they produce, Profitec exemplifies German engineering expertise. Opening one of their espresso machines reveals there's no waste in anything they do. The wiring harnesses are precisely laid out to minimize distraction and the obstruction of parts. Placement of each component is carefully considered.  And making adjustments is done with ease. During our full inspection (which we do with every machine that comes through Clive HQ), Profitec products pass our bench tests time after time.
"It's a German company, but it's one that has a lot of love and appreciation for Italian heritage," continues Mark. "So much so that there's an Italian chef on site that cooks a family meal for the staff every day."
Profitec's appreciation for Italian culture, alongside their dedication to rigorous design and development standards, makes Profitec's line of espresso machines — as well as their compact yet commercially powerful grinder — some of the best products we've ever had the pleasure to use.
If you're looking for an exceptional home espresso experience (that will be easy to maintain), it's hard not to love any option from Profitec. If you're looking for exceptional performance in a smaller footprint, check out the Pro 300 (which features dual stainless steel boilers, tidy, velcro-wrapped insulation, and their full commercial-sized group head). Or choose our personal favorite, the Pro 700, which features the power and amenities of a full-sized machine, including the industry-acclaimed E61 head group (for its ability to deliver immaculate temperature consistency all the way through extraction), large stainless steel boilers, and a whisper quiet rotary pump. The head group itself may weigh more than an entire consumer-grade machine, but you'll taste the reason on the first (and 400th) shot you pull.
Aesthetically, Profitec's design language is modern and restrained. You'll find only clean lines and rational, user-centric decisions throughout. Which means that while you're pulling amazing shots of espresso, you'll have a great experience doing so. From the stainless steel buttons on the Profitec T64 Espresso Grinder (which feel amazing to depress) to the large and satisfying stainless steel adjustment knob for fine-tuning grind coarseness, everything is deliberate. And strong. And decisive.
If you're considering making the leap to a prosumer, commercial-grade espresso machine, you'd be remiss to ignore Profitec. Call us for a consultation to learn more about whether Profitec is the right fit for you.
Note on Profitec and ECM brands: We often get asked about the connection between these two brands. Profitec was introduced to the market during the Host Fiera Milano in October 2013. Profitec is managed by Michael Hauck, who is also responsible for the ECM Espresso Coffee Machines. They are sisters companies. Profitec GmbH was founded in 1985 and has specialized in the marketing of Italian espresso machines and technical products, including the ECM brand.
They have developed and manufactured hand-made, high-end semi-automatic espresso machines since the 1990's. In 2013, they decided to use their know-how to launch a new brand of espresso machines. Profitec and ECM both are located in Germany, but Profitec is more focused on the dual boiler machines, while the ECM lineup includes single boiler and heat-exchanger models.