Baratza Sette 270 Espresso Grinder Overview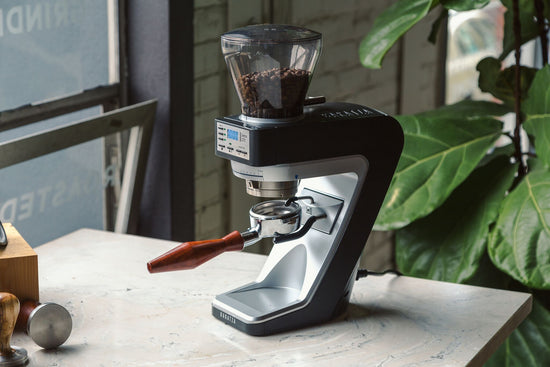 The Baratza Sette 270 represents the pinnacle of Baratza's commitment to bringing cafe quality grind consistency and precision to the home barista. With its unique, yet understated design, and its superb ability at single dosing, the Sette 270 makes a great companion to any home espresso machine.
The Baratza Sette 270 Espresso Grinder has conical burrs that will bring out the brighter, punchier flavors in your coffee making it ideal for fans of single origin coffees. Baratza has also taken advantage of the conical burrs to give the grinder a vertical grind path, leaving no place for grind retention and making this one of the best single dosing grinders we've ever used. If you choose to fill the hopper, the Sette 270 also has 3 grind time settings, making it easy to dial in your preferred dose for quick, repeatable grinding and dosing. The 270 also features a unique combination stepped and infinite grind adjustment system. The larger, macro adjustments are stepped while the smaller micro adjustment ring offers infinite adjustment within each macro setting. This allows for incredibly precise adjustment making any espresso recipe easily achievable.
In addition to being an excellent espresso grinder, the Sette 270 has a wide grind range that goes coarse enough to brew pour over in a pinch. The arms of the portafilter holder can also be rotated out 90 degrees to accommodate a grounds bin, making the grinder easy to use with other brewing methods. Its combination stepped/stepless adjustments makes it dead simple to switch between a coarse drip setting and a fine espresso setting. The grinder's hopper also features a convenient locking lever to switch between different coffees, even with a full hopper of beans. This means it's simple to use one grinder for regular and decaf, or multiple single origin coffees.
With it's 40mm conical burrs and 290 watt motor, the Sette 270 punches well above its weight, grinding a 20g dose in around 6 seconds. Unlike many grinders, it's incredibly easy to separate the Sette 270's burrs for cleaning by simply rotating the lower burr counterclockwise until it comes off. It's equally easy to reattach.
If you're looking for a fantastic espresso grinder that will bring out the best in your coffee without breaking the bank, the Sette 270 is an easy choice.