Compact Espresso Machine Comparison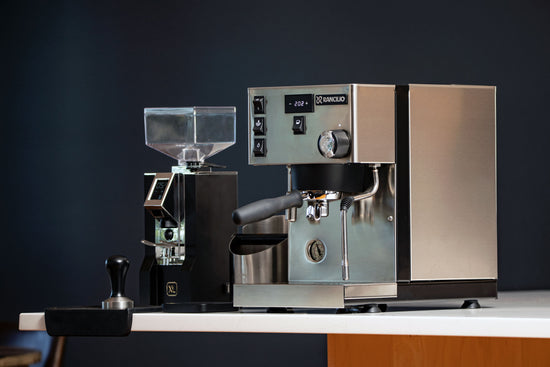 A small space shouldn't be the reason to skip out on the cafe experience at home. Specs and dimensions are helpful, but only to a certain extent. While some machines may have similar features on paper, comparing and contrasting to see which model suits your needs best and will keep you happy for the long haul is still essential. After a few too many espressos (for science, obviously), we've narrowed down the most important details within this ever-popular class of compact dual-boiler espresso machines. 
Let's look at three commonly compared machines: the Rancilio Silvia Pro X, Lelit Elizabeth, and the Profitec Pro 300. All three are known for their small footprint, PID temperature control, and classic Italian heritage. We love dual boiler espresso machines simply because the experience feels easy and seamless between pulling a shot and steaming milk. Espresso Machine Steam Performance
First, let's talk about steam performance. Small machines often have a reputation for lacking steam power, but this certainly isn't always the case. 
If we examine the Rancilio Silvia Pro X, we can see that it includes the largest steam boiler size out of the three. A 1L steam boiler paired with a 1000w heating element means minimal response and recovery time. Back to back drinks of any size will feel effortless. The Silvia Pro also includes a commercial-style steam wand with a stock four-hole steam tip. This further speeds up overall steam time and easily improves your microfoam quality.
While the Lelit Elizabeth has a smaller steam boiler (0.6L), the PID temperature control allows for similar steam pressure than the Silvia Pro. Generally, smaller boilers have a smaller steam capacity, which means you may feel slower recovery time between milk pitchers. Although if you only plan to make 1-2 lattes in the morning and don't intend to host and entertain with your machine, you won't necessarily reach the point at which you'll notice a lack of pressure. You'll still be pleasantly surprised by the punchy steam coming from the Elizabeth. Serving a crowd may be challenging with this machine, so a larger steam boiler will be a better fit for the entertainers. 
On the other hand, if you only plan to make occasional milk-based drinks, a lack of steam isn't necessarily a drawback. If your main focus is espresso, the Profitec Pro 300 is a lovely, consistent machine. The Pro 300 uses a pressure stat to control the steam boiler's temperature, which in this case results in lower steam pressure. While it's still able to texture milk beautifully, we recommend small milk-based drinks for the best results overall. 
If pure steam power is what you're after, the Rancilio Silvia Pro X is the clear winner in this category. The Lelit Elizabeth is a close second, but the boiler size will eventually limit back to back drinks. The Profitec Pro 300 is aesthetically stunning and focused on espresso first but lovely for the small, occasional cappuccino. 
Additional Features
Now, if you're still unsure about which machine is your perfect match, let's talk through additional features. We already know that all three machines use a PID to control the brew boiler temperature. Since they're all saturated-style group heads, the consistency from shot to shot will be identical. However, if you're more interested in a specific control, all three are unique in their specialties and benefits.
If you're drawn to simplicity, the Rancilio Silvia Pro X sports only a PID and basic buttons on the machine's face. You won't find any additional pressure gauges, but a distraction-free appearance is perfect for some. We can't forget to mention the other useful PID settings for easy cleaning cycles and programmable on/off functions, and their soft-infusion feature. Of the three, the Silvia Pro X feels the most durable and hefty overall, which isn't surprising since Rancilio is primarily a commercial espresso machine manufacturer. It's also worth noting that the Silvia Pro X will be the easiest to maintain long term with tidy interiors and easily accessible internals.
For the tech-minded folks, the Lelit Elizabeth includes the most programmability by far, all accessed through the PID. Within the PID baristas have the ability to program shot times and the length of the optional pre-infusion, which is certainly worth noting in this comparison since it's the only machine capable of pre-infusion. On the face of this machine, you will find the PID right below the backlit brew pressure gauge allowing the barista to monitor brew pressure while pulling shots. If you're looking for the most control and versatility, the Elizabeth is tough to beat.
The design of the Profitec Pro 300 is intentional and beautiful. Of the three, it's the most classically elegant with its mirrored stainless steel panels. As mentioned earlier, the Pro 300 focuses primarily on the espresso side. The PID allows for control over the brew boiler temperature and of course doubles into your integrated shot timer. Next to the PID, you will find toggle switches and the steam pressure gauge, which helps you know when your machine is ready to steam. Profitec is one of our beloved manufacturers with a spotless reputation, and their build quality is impressive at every touchpoint.
Summary
In summary, is there a superior machine? Not necessarily. As the barista, it's up to you to determine what's personally most important and will improve your morning coffee routine. If you have a crowd of latte lovers to impress, the Rancilio Silvia Pro won't skip a beat. For impressive versatility, the Lelit Elizabeth has the most technology to work with. And if you're looking for the showstopper in your kitchen, the Profitec Pro 300 is beauty and simplicity wrapped into one compact package.