Profitec GO Espresso Machine Overview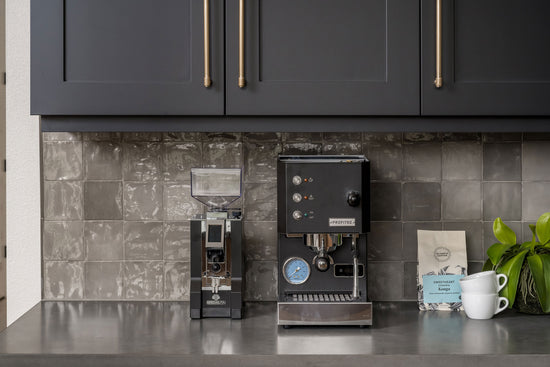 For those who want a simplified espresso-making experience or a beginner machine packed with features that don't typically come with single boilers, the Profitec GO is a perfect choice. The GO has PID temperature control, allowing you to influence the temperature of your espresso actively. This is important if you're versatile and like experimenting with different coffees at varying roast levels. Also, the PID doubles as a shot timer, letting you time your extractions for an extra layer of precision in your espresso recipe. Lastly, the expansion valve (OPV) is conveniently located on the top of the machine, allowing for easy and quick adjustments to your brew pressure. 
Single Boiler Made Easy 
The Profitec GO is a dual-function, single-boiler espresso machine, perfect for small spaces, espresso purists, budding home baristas, and veterans alike. Dashingly simple, efficient, and proficient—the Profitec GO adds a splash of color to your countertop. Let's pull a shot and steam a milk drinks on the GO. 
Pull Shots Within Minutes 
Let's begin by turning the machine on for the first time. The GO will indicate on the PID that it is heating up by displaying UP and then FLU for one minute. The FLU indicator is Profitec's 'fast heat up time' clocking in at about 6.5 mins, making it one of the quickest prosumer machines of this quality to heat up this fast. After this, purge water from the group for a few moments to bring the machine to your set temperature. If you choose not to flush, the machine will automatically reach the set brew temperature in a few minutes. 
After pressing the brew button, the PID's shot timer automatically begins counting up. After you end your brew cycle, the time will remain for a moment, and then flash the brew temperature again. 
Exceptional Milk Steaming 
Making a small milk drink on the GO is a breeze. Press the steam button, and the PID will read ST for steam, and you can watch the temperature climb up until it gets to your set steam temperature. The GO is ready to steam in about 45 seconds. 
Purge some water until steam begins to flow. You are ready to steam! Making an 8oz latte with cafè quality microfoam takes around 30-45 seconds, edging its competition. Switch back to brew mode and take the steam out of the boiler by pressing the coffee button to refill the boiler—about 45 seconds to 1 minute back and forth. Remember, you can only steam for one drink at a time. 
 Now we're ready to pull another shot. If you're pulling back-to-back shots, temperature recovery time is almost instant in brew mode. 
Machine Accessories & Extras 
The GO comes with all of the essentials you need to pull a shot out of box, including a cleaning brush, pump priming tube, blank disk, single basket, double-spouted portafilter with an included double basket, a tamper, and user manual. 
Long Live the GO 
The Profitec GO is a modern espresso machine for the modern home barista – combining the convenience of a fast heat-up time, Profitec's reliable build quality, and intuitive controls. The GO is a fun addition to any space and a perfect starter espresso machine to hone your skills and make perfect drinks for years to come.