ECM Synchronika Espresso Machine Overview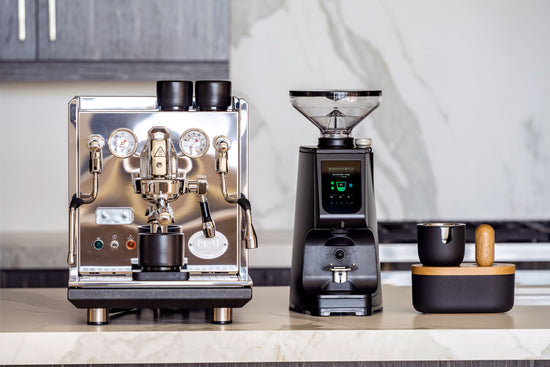 The ECM Synchronika is nothing short of an engineering marvel; with its sharp, clean edges, this German-built dual-boiler espresso machine is at the forefront of innovation in the home espresso market. Unrivaled with its artful finishes and tactile touchpoints, the Synchronika boasts café quality 2-bar steam pressure, a PID for temperature precision, and a switchable water source for plumbing or reservoir use. In short, the espresso enthusiast's dream. 
This espresso machine overview will cover the key features, specifications, and frequently asked questions concerning the ECM Syncrhonika—giving you the confidence to trust Clive Coffee in your espresso journey and that you're choosing the suitable machine for your needs and aspirations.
Who Should Buy The ECM Synchronika?
The Synchronika is for many kinds of home baristas, from espresso hobbyists seeking perfection in every cup to folks who have never pulled a shot of espresso. 
For beginners, the advantage of the Synchronika is that it is a dual-boiler, which offers a seamless workflow experience, allowing you to learn and grow with your new machine. Unlike single-boiler machines with a waiting period and less robust steam pressure, you can make espresso and steam milk simultaneously and on demand. If you're new to steaming milk, you can reduce the steam boiler temperature for less steam pressure to augment your experience at any skill level. The peace of mind that the PID is keeping your target temperature & helping you time your extractions, unlike most heat exchanger machines on the market, is a huge advantage. Dual-boilers bridge the gap between those two machine styles, and the Synchronika is the best. 
For the espresso enthusiast, you get everything mentioned above, plus additional features such as mechanical pre-infusion and the optional LUCCA Flow Control add-on. When plumbed into a water line, you get access to 2 bar line pressure, potentially enhancing the espresso-making experience and helping with experimentation.  For the espresso purist, you can turn the steam boiler off with a switch behind the drip tray. 
ECM Highlights
E61 Group head
Ubiquitous and stylish group head design that boasts thermal stability, access to mechanical pre-infusion and flow control, and a tactile feel.
PID Display 
Individual temperature adjustment in both boilers, an optional display to remind you of the group cleaning, ECO mode, and an integrated shot timer.
2 Bar Steam Pressure 
Access to

commercial speed and quality, even when steaming large quantities of milk.
Rotary Pump 
This pump style offers flexibility, allowing you to plumb your machine into a water source or operate the machine on the internal 3L reservoir. Additionally, the rotary pump is smooth in operation, quiet, and long-lasting. 
Premium Touchpoints and Build Quality
ECM is obsessed with the quality of the details of its flagship machine. 

From the side panels to the inside of the drip tray, the stainless steel is mirror finished with no visible weld marks or sharp edges. The steam and hot water joysticks are chrome-tipped, and the exhaust port fasteners are custom finished.
Clive Repair Team Blue Ribbon
Elegantly and efficiently designed internal components make DIY repairs more accessible. Six Allen head screws remove the panels, revealing an internal logic that is neat, clean, and tidy. 
Wood Customizations 
You can customize your Synchronoika with a host of locally and ethically sourced wood touchpoints on the Synchronika product page.
Common Machine Comparison
Profitec Pro 700
—
Profitec is ECM's sister company; thus, they share many similarities across their machine lineups. Regarding performance and build quality, the Pro 700 is identical to the ECM Synchronika. The Synchronika has finer touch points and finishes, such as joysticks for steam and hot water, unlike traditional rotary knobs. The Pro 700 is more industrial in its aesthetic, and the Synchronika is more buttoned-up and refined.
Verified Customer Reviews
With the very first sip from the very first espresso extracted from our new Synchronika, my wife asked in an amazed voice "is this the same coffee?" It was. Nothing more to say.
This machine is everything that we could have wanted. We purchased the Chrome/Walnut. The consistency is fantastic, the shots pulled are fantastic (we can finally really pick out all those flavor notes on the coffee bag!), and to top it off, the machine itself is absolutely beautiful. Build quality is top notch. The steam power is more than sufficient. We couldn't be happier with our decision.
Beautiful machine. We purchased the black anthracite/ black. Looks amazing. Heats up fast! Steaming is quick. Also it's quiet. Probably more than we need but hey, you only live once! Very happy with the quality.
FAQs
Q: You mention that you can pull shots and steam milk simultaneously,  but how is this possible with a 15amp machine? 
 A: All 15amp dual-boiler machines alternate power between both boilers and have independent heating elements, thus, making it 100% possible. 
Q: Can I use the Synchronika on a coffee cart or other light-commercial applications?
A: No. The Synchronika will not be able to keep up with commercial volume. 
Q: I want to direct plumb my espresso machine. What filter should I use?
A: For all plumbable machines we sell, we recommend our water softening & filtration system as a complete kit. Here is our video installation guide.