Introducing the Eureka Mignon Libra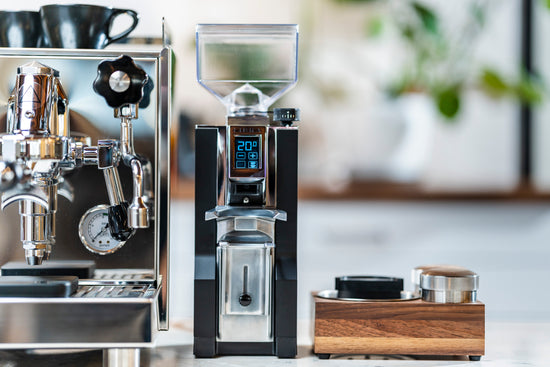 Here at Clive HQ, we're all about sourcing espresso equipment that makes our morning routines more fun and expedient. If we can eliminate a step or two to get even a moment closer to that perfect shot of espresso, we want it, and we want to know about it.  So don't mind us while we introduce you to your new favorite grinder—the Eureka Mignon Libra grind-by-weight. In literature, it's said that the moon was in Libra when Rome was founded, thus being the symbol of the scales; it's only fitting that Eureka's newest addition bares its namesake—offering consistency and balance. 
Inspired by the form and function of the Eureka Mignon Specialita, the Libra steps up its game with the grind-by-weight feature, allowing you to have an easy and smooth experience making espresso at home. Eureka's blend of build quality, ease of use, and technology put them on the cutting edge of the coffee industry. We talked a lot about grinding by weight, but what is that workflow like in practice? In no particular order: 
Waste Less Coffee
After plugging in your desired weight in grams, say 19g, the grinder will grind that desired amount into your portafilter with very little variation. It's really that simple!
Faster Workflow
Skip having to measure your dry dose twice to see if your grinder gave you the correct amount of ground coffee. This lets you focus on adjusting your grind size, eliminating one extra variable. 
Perks
The Libra boasts Eureka's unique anti-vibration system that allows disturbances to the grinder or portafilter not to disrupt the grinding process. This also makes for a tranquil grinding experience at around 64 dB. Additionally, The Libra has an adjustable portafilter rest designed to fit any size portafilter with ease for hands-free grinding. The 55mm flat hardened stainless steel burrs, in tandem with a 310w motor, can grind your dose with extreme consistency +/- 0.2g variation.
Okay, so this all sounds great, right? But what about all this coffee mess I hear about in the Specialita's reviews? I don't want to spend the rest of my morning cleaning up after myself. Eureka heard this loud and clear and are offering the Libra Dosing Funnel for free with the code LIBRA at checkout. This clears up any mess, spray, and what have you, and now you can feel free to go to town with those puck rakes and WDT tools without fear. Don't forget to add the funnel to your cart!