Profitec Pro 600 Espresso Machine Overview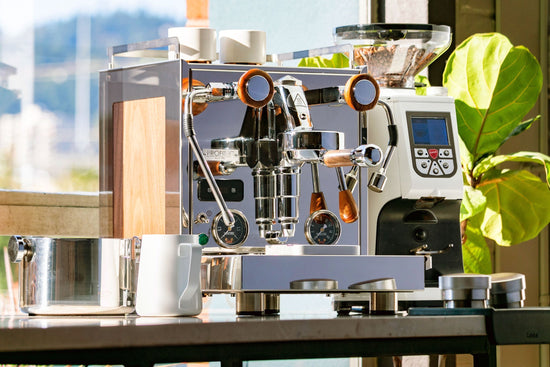 Our favorite espresso machines combine the right features with intentional design to create an experience that's enjoyable, practical, and reliable.
The centerpiece of the compact and powerful Profitec Pro 600 is the legendary E61 group head. Patented in 1961, many baristas are drawn in by its romantic, mechanical appeal, and stick around for its renowned reliability. It builds on these classic looks with all the modern creature comforts, including temperature controlled stainless steel dual boilers, a built-in shot timer, and a large internal water reservoir. For those that don't wish to direct plumb their machine, this combination of features is a great fit.
Being a reservoir-only machine allows the Pro 600 to be a more compact alternative to its big brother, the Pro 700. Profitec leaned into this differentiation and gave the 600 a smaller vibratory pump and a smaller steam boiler. Thanks to their engineering prowess, the vibratory pump is one of the quietest we've ever heard and the steam boiler is capable of producing 2 bar pressure. This means it packs a much bigger punch than you'd expect from its modest 1-liter volume. The included 2-hole steam tip is approachable for new baristas, and with the optional 4-hole tip you can steam 8oz of milk in 12 seconds - as quick as a Linea Mini. This means it's easy to texture milk for large and small drinks with the Pro 600, but if you'd like to entertain and never run out of power, we recommend something with a larger steam boiler - like the Profitec Pro 700. We're also fans of the 600's side mounted steam arm, which makes for an ergonomic steaming experience. They also open up the area around the group head, so you have more space to enjoy locking in your portafilter and lifting the mechanical brew lever to pull your shot.
This excellence in engineering is visible inside and out. Removing the machine's panels takes just seconds with an allen wrench. One look at the internals will give you a greater appreciation for the care and intentionality Profitec puts into their machines. Any maintenance will be straightforward to execute with simple tools thanks to the tidy internal design. They've even made the brew pressure adjustment accessible behind the drip tray, where you'll also find a little slot to hold your backflush disc.
This compact E61 dual boiler machine offers quality, classic looks, and considerable power in a compact footprint. It's designed to deliver delicious shots and a satisfying experience, every morning, for years to come.