LUCCA A53 vs. Vivaldi: Machine Comparison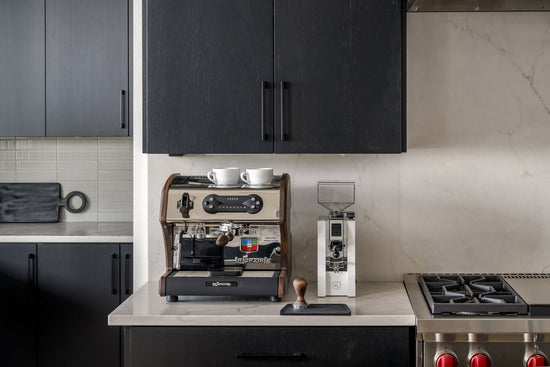 One of the most frequently asked questions our CX team gets is: "What is the difference between the LUCCA A53 and the La Spaziale Vivaldi?" The LUCCA and the Vivaldi look similar, but some key differences make The A53 Mini our pride and joy—a cut above the rest. So, let's settle the record once and for all and put this issue to bed. 
Café Origins & Home Inspiration 
The La Spaziale Vivaldi is a legend that has stood the test of time, beginning in Italian cafés, but eventually, the unit was redesigned and migrated into people's homes. While the Vivaldi made cafè quality drinks more accessible to home baristas, the machine still looked like it belonged behind a bar, away from the tired eyes of caffeine-deprived customers—producing high-quality drinks like some strange alchemy. The Vivaldi proved popular with Clive's customers, and in 2011 we partnered with Oregon Frame Company, a Portland artisan, to produce high-quality and bespoke wood panels to warm up the Vivaldi and provide a level of customization not widely available at the time. 
Fast-forward to July 2014, and the LUCCA brand was born. Inspired by walking through Florence's winding, cobblestoned streets, Clive's founders came up with the namesake; we partnered with La Spaziale, and the rest is history. 
Similarities Between the LUCCA A53 & the La Spaziale Vivaldi 
Internally, both machines are identical. The dimensions and weight of the machines are the same as well. 
Dual boiler 

Saturated group head (53mm size)

Volumetric shot dosing 

Pre-infusion (programable on direct plumb models // pre-infusion chamber on reservoir models)

Dual-pressure gauges 

LED PID temperature control display 

Bluetooth connectivity and S1 Timer App available on Apple App Store

 
 Why Choose LUCCA?
The A53's aesthetic is noticeably different from the Vivaldi in that we modernized the unit's look. The temperature control panel is tastefully backlit with red lights, and the LUCCA light is always illuminated when the machine is on. We simplified the touch button interface to make the buttons more tactile and responsive to touch. We also include a complete three-year parts and labor warranty compared to the one-year Vivaldi warranty. In addition to the wood panels, we offer packages that include a matching wood steam knob (for the Mini version only) and an ergonomic bottomless wood portafilter that our technicians will install for you. From box to counter, the perfect machine is customized by you. 
Below are some key additions that we include with the LUCCA A53 that do not come with the La Spaziale Vivaldi: 
Pre-installed pre-infusion chamber (on Mini version only)

53mm LUCCA stainless steel tamper 

53mm bottomless portafilter 

Double and triple IMS precision portafilter baskets
We choose LUCCA because it makes pulling great shots easy and making cappuccinos fun. We choose LUCCA because it's not just an espresso machine but represents those moments when we slow down and do something for ourselves and those we love. LUCCA is Clive's legacy, and we're thrilled to share it with you. 
More from LUCCA
Every great espresso machine needs a matching grinder so check out the LUCCA Atom 75, with True Grind technology assisting you in find that perfect starting point to dial in a new coffee, as well as a digital library to store them in. Waste less coffee, have more choice with the LUCCA Atom 75.