Quality Espresso Machines Under $1,000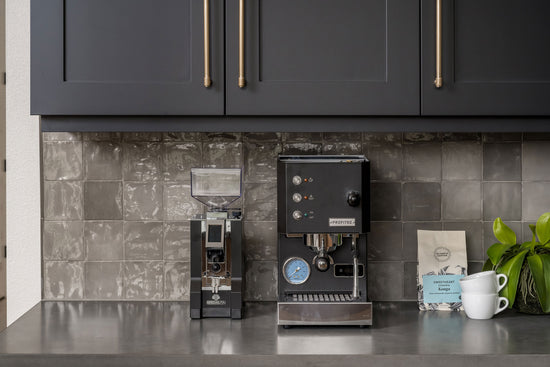 The coffee forums and influencer vlogosphere are saturated with white noise about what it takes to produce great espresso at home. Individuals on r/espresso often share images of their "humble setup," including a $10k machine, a $4k grinder, and many puck preparation tools. As a result, beginners to espresso brewing can become overwhelmed with confusion and FOMO. This trend has been parodied extensively, with individuals using our lifestyle photos to poke fun at overly-enthusiastic home baristas. However, is it necessary to spend such exorbitant amounts on an espresso setup that can produce decent, or even exceptional, results? Absolutely not! Let's explore the equipment that can help you create liquid gold without breaking the bank.
Espresso machines under $1000
All three of the espresso machines below have a lot in common—they're compact and ideal for small spaces, on the affordable side, and are straightforward to use.
Breville Barista Pro $849.95
The Breville Barista Pro is the most elegant all-in-one espresso machine option for beginner home baristas, folks who prioritize convenience over experimentation, and those who like to keep their space nice and tidy. The Barista Pro's built-in grinder is intuitive to adjust, and its programable touch screen caters to any specialty espresso beverage you desire. The machine boasts nifty convenience features such as a large and easy-to-fill 67oz reservoir, a super fast morning warm-up timer,  programable volumetric shot dosing, and a PID for temperature control. The Breville Barista Pro aims to help you craft the espresso drinks of your dreams at an affordable price point and is loaded with premium features. 
Rancilio Silvia $865 
The Silvia has been around forever, and its track record is so consistent that folks still have their original units from 15-plus years ago. This machine is often the introduction to one's lofty home espresso journey or, very often, the first and last stop. So much ink has been put to parchment about the Silvia, so we'll just cut to the chase—the Silvia is the most simple, straightforward, no-fuss single-boiler espresso machine on the market. Our tech team loves working on these because the internals are easily accessible, and the internal logic just makes sense. If you want to have the ability to craft solid espresso and can steam milk, the Silvia is the perfect machine for the job. 
Profitec GO $999-$1099 
The Profitec GO has gained immense popularity among our customers, drawing inspiration from its sister company ECM. While this machine may not strictly conform to the under $1000 category, its custom colors are worth considering if you want to add a pop of color to your espresso bar. The build quality and finish of Profitec machines are renowned in the home espresso market, and the Profitec GO is no exception. It comes equipped with a PID temperature control that also features an integrated shot timer, a feature not commonly found in other single-boiler espresso machines at this price point. Additionally, the machine allows for convenient adjustment of brew pressure through its OPV located on top of the machine, enabling nuanced adjustments to suit individual preferences. With impressive features and unparalleled build quality, the Profitec GO is genuinely a one-of-a-kind machine in the single-boiler category. This machine is fit to grow into and keep for many years to come. 
Espresso grinders under $500
The grinder you choose with your espresso machine is crucial to your espresso setup's performance and overall espresso outcomes. The three grinders below are intuitive to use, have a large range of adjustments for fine-tuning, and are easy to maintain over time. 
Fellow Opus $195
At Clive, we have a deep appreciation for Fellow's products. Their deliberate and visually appealing design, coupled with exceptional functionality and ergonomics, always manages to impress us. The Opus is no exception to this high standard. With the ability to grind for a wide range of brew methods, including espresso, which is unprecedented at this price point, the Opus is a versatile grinder that can handle all your needs. High-quality grinders typically come at a steep price and can be complex for newcomers to home brewing. However, Fellow breaks from this trend, making coffee more accessible to everyone by simplifying the workflow with this new all-purpose grinder. The Opus has 40+ grind adjustments, including several internal micro-adjustments for folks who need to grind finer. 
Baratza Sette 270 $399
Similar to the Rancilio Silvia, the Baratza 270 espresso grinder is a reliable choice that has helped many individuals begin their espresso-making journey. Featuring 270 macro/micro adjustments and three programmable dosing settings, this conical burr grinder offers exceptional repeatability and minimal retention. Its design prioritizes home baristas, unlike other grinders adapted from commercial models, resulting in a plethora of features we appreciate. While it functions admirably with a full hopper, providing consistent doses with its timed dosing system, it excels when used for single dosing. 
Eureka Mignon Silenzio $499-579
With its stainless steel construction, step-less grind adjustment, and professional feel, the Silenzio stands out as the best option on this list regarding overall build quality. Its noise insulation, and distraction-free interface make it ideal for those who prefer a calm home espresso experience. The straightforward timed grinding dial allows for timed dosing, or you can opt for manual mode for an even simpler experience. The ergonomically placed grind adjustment dial is located at the front and is sensitive enough that just a few turns will produce coarse grounds for drip coffee, pour-over, or French press. The stainless steel casing is equipped with sound insulation, resulting in one of the quietest grinders on the market.
Accessories under $100 to elevate your home espresso.
Making great espresso is all about the experience and the ritual, so we would be remiss if we didn't have a few suggestions to help you streamline your coffee routine. The accessories you choose also don't need to cost an arm and a leg, but they must be functional and help you with espresso fundamentals. 
An espresso scale is essential for building an espresso recipe and troubleshooting foul shots. Please do not pull shots in the dark. Your palate will thank you. 
SWORKS WDT Tool $50
Click above for this one cool trick to help you cure channeling shots. Puck prep and distribution is an essential part of the process before your shot is pulled. We are huge fans of the WDT tool because it evenly distributes the entire coffee bed. 
Airscape Coffee Canister $32
Oxygen is one of the biggest coffee killers. Storing your coffee in a canister that removes oxygen is the key to keeping it fresher longer and your shots pulling more consistently.