The Top 5 Espresso Machines of 2022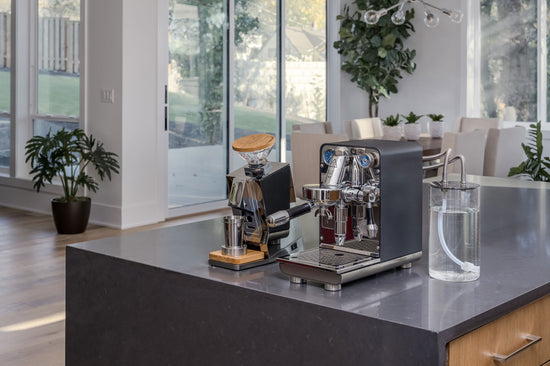 In recent years, there has been a microscope trained upon the human relationship and coffee, with research posing questions such as: is coffee consumption just a habit, or is it a need? The University of Southern California folks published a study in April 2022 that suggests a link between habit-forming patterns and cognitive behavior in our daily caffeine intake. Perhaps there is a much more straightforward answer to be had—that habitual consumption of coffee is good and that we should all drink more. At Clive, we literally cannot function without good espresso, and we know you can't either, so let's take a closer look at five of our favorite espresso machines of 2022. 
1. ECM Puristika
Choosing a single-boiler machine from our lineup was difficult, albeit illuminating. The Puristika stands out for its pure simplicity and what it distinctly lacks—a steam wand and, thus, milk-steaming capabilities. Stripped to its bare bones, the Puristika aims to keep you pulling the best shots of your life. In stark contrast to the trendy connected machines, touchscreens, and pressure profile espresso machines, the Puristika has a modern look yet brings us back to the fundamentals of espresso brewing. Even though the Puristika cannot steam milk, it can use our Lucca Flow Control system, which is ideal for the espresso tinkerer aiming to experiment with different roast levels, and bean varietals and to push the limit of their espresso recipe. All you need is water, a grinder, your favorite coffee, and your lucky mug—espresso bliss.
Spec Highlights
Single boiler 
E61 group head
PID temperature control
Adjustable expansion valve (front panel)
2L external glass reservoir // vibratory pump
Available with Flow Control 
2. Lucca A53 Mini V2 by La Spaziale
Our most popular espresso machine for the past few years, the Lucca A53, is Clive's crown jewel. Clive's CX team fields tons of conversations each week, many of them concern the difference between the vaunted and proven La Spaziale Vivaldi and the Lucca A53 version. The short answer is that the Vivaldi is such a workhorse that we kept all the internals the same, making aesthetic and stylistic changes to make the machine look cleaner, more modern, and more functional. Then for the V2, we added automatic pre-infusion, a double and triple precision basket, and an updated automatic on/off programmable timer. Want to add artisanal and ethically sourced wood customizations? We got you. Many folks seek out a machine to replicate café-style drinks; the A53 Mini is the café experience boasting an affordable price point, touch-button convenience & programmability, and commercial steam performance to boot. But what about the smaller 53mm portafilter? For beginners and seasoned baristas alike, the smaller but deeper portafilter basket offers a more forgivable extraction experience and repeatable results. For folks looking to start a coffee cart or a catering business, the plumbable version of the A53 can crush any rush. 
Spec Highlights

Dual-boiler 
Semi-saturated group head
Commercial-grade steam power
Two Programmable volumetric shot dosing options
2.4L front loading reservoir // vibratory pump 
Optional wood customization options and add-ons
IOS app connectivity (daily on/off timer)
3. Profitec Pro 600
The Pro 600 exists in our espresso machine lineup without a rival. We often refer to the Pro 600 admiringly as the Profitec Pro 700's little sibling. Although the Pro 600 cannot plumb into a water line, it has similar performance to larger rotary pump dual-boiler machines. The Pro 600 is our only full-size reservoir-only machine with an e61 group head, maintaining its patented thermal stability with style. In contrast to another top espresso machine of 2022, the Lucca A53 Mini, the Pro 600 has a more manual and tactile feel to its workflow. It's outfitted with spring-loaded steam and hot water rotary knobs, a manual brew lever to start and stop your shots, and an angled steam wand to hit that perfect milk vortex; it puts you in the driver's seat of your own ideal espresso experience.  
Spec Highlights
Dual-boiler
E61 grouphead
Stainless steel boilers
PID temperature control 
2 bar steam pressure 
3L top-loading reservoir // vibratory pump 
Available with flow control 
4. Profitec Pro 400
The Pro 400 is a breath of fresh air. The customizable gauge colors make the machine pop—the splash of color makes the unit feel lighter and less stuffy than some machines fitted with a classic wood aesthetic. The 3-way temperature switch helps alter the temperature more accurately than other heat exchange machines. Is this important? Yes. For example, darker roasts will extract better at lower brew temperatures than lighter roasts at higher temperatures. Compared to other heat exchangers, the Pro 400's cooling flushes are more consistent, and back-to-back shots vary less in temperature—eliminating the need for temperature surfing. Moreover, automatic pre-infusion allows you to achieve a more even extraction by gently saturating the espresso puck before applying full 9-bar pressure. These features may seem like a gimmick, but the Pro 400 really does pack the machine full of helpful features to give you that added bit of control for that morning (or evening) caffeine boosts—with the internal build quality to back it up. The Pro 400 is the perfect machine for the home barista who wants to steam beautiful cafe-quality microfoam and have a little more control over their shot temperatures. 
Spec Highlights

Heat Exchanger 
E61 grouphead
2.8L top-loading reservoir // vibratory pump
Three preset modes for water and steam temperature
Switchable pre-infusion
Adjustable expansion valve
Dual gauge for boiler and pump pressure
Available with flow control
5. ECM Synchronika 
The ECM Synchronika is nothing short of an engineering marvel; with its sharp, clean edges, ECM's flagship dual-boiler is a work of art. We often discuss the Synchronika as a forever machine to be cared for and repaired over time, yes, but also passed along like an heirloom. This rarefied quality makes the Synchronika a cut above the rest—the espresso enthusiast's dream. Combining form and function, the Synchronika makes constructing your morning cappuccino fast and easy with its 2-bar steam pressure and powerful 1400w heating element. The machine's performance makes it easy to entertain a dinner party without skipping a beat. 
Spec Highlights

Dual-boiler 
E61 grouphead 
3L top-loading reservoir // rotary pump 
Switchable water source (reservoir use and plumbable)
Available with flow control
Honorable Mentions 
1. La Marzocco Linea Mini
The Linea Mini—is a proven machine with commercial build quality. Arguably the best home espresso machine on the market. This machine narrowly missed our top 5 list because of its significant price point ($5900 for the base model). While we think this machine is worth the hype, the other machines on this list have much to offer for espresso enthusiasts at a lower cost. 
2. Rancilio Silvia Pro X
The Silvia Pro X, Rancillo's upgrade to their recent Silvia Pro model, brought many welcomed upgrades such as—soft-infusion, a brew boiler gauge, and a few matte colorways. The core of the machine remained the same—solid and reliable. 
3. Profitec Go
The most recent addition to Clive's single-boiler lineup, the Profitec GO boasts features that typically do not come with single-boiler machines, such as a PID, an easily adjustable expansion valve, and decent steam pressure.  
In the past, we've often used car metaphors to help folks delineate significant and subtle differences between the espresso machines in our lineup. Yet, that metaphor no longer seems precisely apt. We, as baristas, have a reciprocal relationship with coffee. Making espresso at home brings that relationship into the heart of our lives, representing those special moments we share with ourselves and others. We are the last hands that touch this product, and we honor the human relationship with coffee by making it well. One of these machines is for you. It's time we create more memorable moments with coffee.